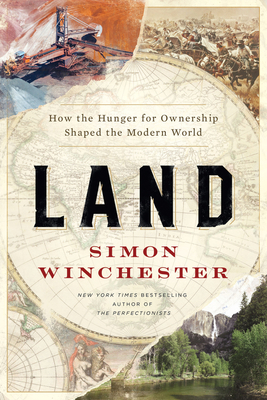 Staff Reviews
---
I find anything Simon Winchester writes fascinating. Here he weaves elements of geography, history, and science into a depiction of our world. He touches on climate change but mostly the ways man has impacted land since the beginning of civilization. I like Winchesters chapter divisions in Land and am amazed of the engagement he constructs.
— From
What Karin is Reading
Description
---
The author of The Professor and the Madman and The Perfectionists explores the notion of property—our proprietary relationship with the land—through human history, how it has shaped us and what it will mean for our future.

Land—whether meadow or mountainside, desert or peat bog, parkland or pasture, suburb or city—is central to our existence. It quite literally underlies and underpins everything. Employing the keen intellect, insatiable curiosity, and narrative verve that are the foundations of his previous bestselling works, Simon Winchester examines what we human beings are doing—and have done—with the billions of acres that together make up the solid surface of our planet.
Land: How the Hunger for Ownership Shaped the Modern World examines in depth how we acquire land, how we steward it, how and why we fight over it, and finally, how we can, and on occasion do, come to share it. Ultimately, Winchester confronts the essential question: who actually owns the world's land—and why does it matter? 
About the Author
---
Simon Winchester is the acclaimed author of many books, including The Professor and the Madman, The Men Who United the States, The Map That Changed the World, The Man Who Loved China, A Crack in the Edge of the World, and Krakatoa, all of which were New York Times bestsellers and appeared on numerous best and notable lists. In 2006, Winchester was made an officer of the Order of the British Empire (OBE) by Her Majesty the Queen. He resides in western Massachusetts.
Praise For…
---
"The latest sweeping, satisfying popular history from the British American author and journalist, this time covering a topic that many of us take for granted...Engaging revelations about land and property, often discouraging but never dull.
— Kirkus Reviews

"Exudes the comfort and charm of a beloved encyclopedia come to life."
— New Yorker

"In many ways, "Land" combines bits and pieces of many of Winchester's previous books into a satisfying, globe-trotting whole...Winchester is, once again, a consummate guide."
— Boston Globe