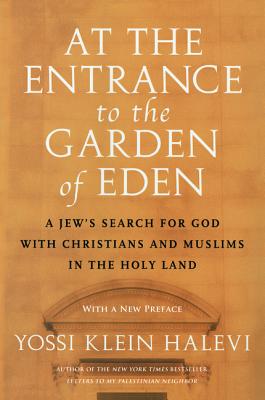 $16.99
Email or call for price.
Description
---
From the author of the New York Times bestseller Letters to My Palestinian Neighbor comes a new edition—with a new and updated foreword—of his brilliantly observed memoir and unprecedented and remarkable spiritual journey.
"One of the most important spiritual memoirs of our time."—Krista Tippett, host of the radio program, On Being
While religion has fueled the often violent conflict plaguing the Holy Land, Yossi Klein Halevi wondered whether it could be a source of unity as well. To find the answer, this religious Israeli Jew began a two-year exploration to discover a common language with his Christian and Muslim neighbors. He followed their holiday cycles, befriended Christian monastics and Islamic mystics, and joined them in prayer in monasteries and mosques in Israel, the West Bank, and Gaza.
At the Entrance to the Garden of Eden traces that remarkable spiritual journey. Halevi candidly reveals how he fought to reconcile his own fears and anger as a Jew to relate to Christians and Muslims as fellow spiritual seekers. He chronicles the difficulty of overcoming multiple obstacles—theological, political, historical, and psychological—that separate believers of the three monotheistic faiths. And he introduces a diverse range of people attempting to reconcile the dichotomous heart of this sacred place—a struggle central to Israel, but which resonates for us all.
About the Author
---
Yossi Klein Halevi is an American-born writer who has lived in Jerusalem since 1982. He is a senior fellow of the Shalom Hartman Institute in Jerusalem and the author of At the Entrance to the Garden of Eden: A Jew's Search for God with Christians and Muslims in the Holy Land and Like Dreamers: The Story of the Israeli Paratroopers Who Reunited Jerusalem and Divided a Nation, which won the Jewish Book Council's Everett Family Book of the Year Award for Best Jewish Book in 2013. Together with Imam Abdullah Antelpi of Duke University, he co-directs the Hartman Institute's Muslim Leadership Initiative. He and his wife, Sarah, have three children.
Praise For…
---
"Extraordinary and heartbreaking...  [Halevi] brings us with him to stand at the gates of the garden, sensing the ways in which those who call themselves Abraham's children might live together in some kind of humility and willingness to learn. It is a book full of wonders – not at all sentimental – here too there are corrupt and lazy souls, here too there are good men trapped by prejudice; but overall a real glimpse of the hope that might be." — Rowan Williams, Archbishop of Canterbury
"One of the most important spiritual memoirs of our time." — Krista Tippett, host of the radio program, On Being
"[Halevi] writes with the sensibility and passion of a psalmist, creating beautiful images in luminous prose. A highly original work filled with sparks of holiness." — New York Jewish Week
"Halevi's free-range orthodoxy may be a real alternative to the hopeless divide between secular humanists and fundamentalists." — Washington Post Book World
"[Halevi's] words echo with the possibility of transcendence." — Los Angeles Times
"Evocative...compelling." — St. Louis Post-Dispatch
"At the Entrance to the Garden of Eden is filled with soul-stretching quotations, a treasure trove of devotional practices, and keen insights into the commonalities within the Jewish, Christian, and Muslim mystical traditions. Above all, this is a hopeful and healing book, the kind that comes along all too rarely in these times of contentiousness and adversarial conflict. Read it gratefully." — Spirituality and Health
"The political landscape of the Middle East has inspired many books, but few have focused on the intersection of its religious paths as healing territory. This is where Jerusalemite Halevi, a transplanted American Jewish journalist, breaks ground…. Readers of all religions will appreciate the honesty of this spiritual walkabout." — Publishers Weekly