Meet Me in Monaco: A Novel of Grace Kelly's Royal Wedding (Paperback)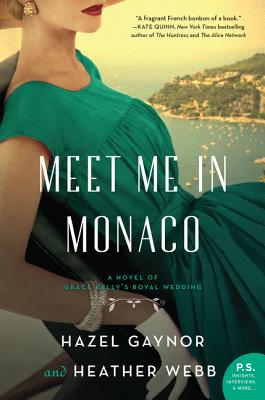 Staff Reviews
---
Romance on the French Rivera! Pure glamour, lost love and second chances. Easy to devour, fun to get lost in while dreaming of the glorious sights and smells of the sunny Cote d'Azur.
— From
What Karin is Reading
Description
---
"A fragrant French bonbon of a book: love, glamour, perfume, and paparazzi all circling around the wedding of the century..."--Kate Quinn, New York Times bestselling author of THE ALICE NETWORK and THE HUNTRESS.
Named one of InStyle's best books to put in your totebag for the summer!
Named one of Popsugar's best books to put in your beachbag this summer and one of the best books of July!
Set in the 1950s against the backdrop of Grace Kelly's whirlwind romance and unforgettable wedding to Prince Rainier of Monaco, New York Times bestselling author Hazel Gaynor and Heather Webb take the reader on an evocative sun-drenched journey along the Côte d'Azur in this page-turning novel of passion, fate and second chances...
Movie stars and paparazzi flock to Cannes for the glamorous film festival, but Grace Kelly, the biggest star of all, wants only to escape from the flash-bulbs. When struggling perfumer Sophie Duval shelters Miss Kelly in her boutique to fend off a persistent British press photographer, James Henderson, a bond is forged between the two women and sets in motion a chain of events that stretches across thirty years of friendship, love, and tragedy.
James Henderson cannot forget his brief encounter with Sophie Duval. Despite his guilt at being away from his daughter, he takes an assignment to cover the wedding of the century, sailing with Grace Kelly's wedding party on the SS Constitution from New York. In Monaco, as wedding fever soars and passions and tempers escalate, James and Sophie—like Princess Grace—must ultimately decide what they are prepared to give up for love.
About the Author
---
Hazel Gaynor is the New York Times and USA Today bestselling author of A Memory of Violets and The Girl Who Came Home, for which she received the 2015 RNA Historical Novel of the Year award. Her third novel, The Girl from the Savoy, was an Irish Times and Globe & Mail Canada bestseller, and was shortlisted for the BGE Irish Book Awards Popular Fiction Book of the Year. In 2017, she has published The Cottingley Secret and Last Christmas in Paris. Hazel was selected by US Library Journal as one of 'Ten Big Breakout Authors' for 2015 and her work has been translated into several languages. Hazel lives in Ireland with her husband and two children.
Heather Webb is the award-winning and international bestselling author of Last Christmas in Paris, The Phantom's Apprentice, Rodin's Lover and Becoming Josephine. Her novels have been translated into over a dozen languages worldwide. Heather is also a freelance editor, public speaker and blogger. She lives in New England with her family and one feisty bunny.
Praise For…
---
"...a fragrant French bonbon of a book: love, glamour, perfume, and paparazzi all circling around the wedding of the century...."
— Kate Quinn, New York Times Bestselling Author of The Alice Network

"An enchanting novel...Gaynor & Webb weave a wonderful tale of love and loss, graced with the scents of perfumes, magnificent vistas and characters you will not soon forget. A delight for Francophiles, perfumistas, filmbuffs, and everyone who loves a good cry and happy ending."
— MJ Rose, New York Times bestselling author

"Webb and Gaynor's latest collaboration is a historical fiction home run. The duo brings to life a vivid, engaging heroine, a glorious Côte d'Azur setting, and the ultimate princess, Grace Kelly. MEET ME IN MONACO is smart, romantic, and heartbreaking, and the tale captivates from the start."
— Michelle Gable, New York Times bestselling author of A Paris Apartment

"...Meet Me in Monaco is a sweeping novel that will carry you away on a grand adventure. Gaynor and Webb bring the senses alive as the reader is transported back in time and becomes a guest at the...wedding... An enchanting read."
— Chanel Cleeton, New York Times bestselling author

"Meet Me in Monaco offers a fabulous you-are-there glimpse into the lives of the rich and famous--and real. From Grace Kelly's royal 'wedding of the century' to the luxe lifestyles on the Riviera and in Paris and New York, this novel swept me away."
— Karen Harper, New York Times bestselling author of American Duchess and It Girls

"A glorious, glamorous summer read! ...The evocation of the 1956 wedding of the year is so sumptuous you feel you are there amongst the glitterati, sipping fine champagne and inhaling the scent of Coeur de Princesse."
— Gill Paul, bestselling author of The Secret Wife

"... a spellbinding historical romance...MEET ME IN MONACO is a tale of first, missed, and second chances–of relatable women and men trying to make good lives for themselves in spite of difficult circumstances. It is a fairy tale...with an enchanting, fascinating fairy godmother: Grace Kelly."
— Erika Robuck, national bestselling author of Hemingway's Girl

"Everyone from shop owners to paparazzi and movie stars arrive in glamorous Monaco against the backdrop of Grace Kelly's 'Wedding of the Century' to Prince Rainier. A delightful beach read."
— New York Post

"…A scrumptious concoction served up with delectable descriptions and heaps of emotion. Sweet, then bitter, then sweet again, the love story is woven through with Grace's fairy-tale romance with Rainier and its devastating ending , snatching redemption from tragedy in the best Hollywood style."
— Publishers Weekly

"What would it be like to be friends with Grace Kelly? Hazel Gaynor and Heather Webb imagine it in Meet Me in Monaco, which is an utter delight...From Grace's lavish wedding to Sophie's own blossoming romance, this book is a total treat."
— Popsugar

"...it'd be no surprise to see Hazel Gaynor and Heather Webb delivering another bestseller...The true treasure in this novel is the masterful craftmanship of this powerful duo of female authors who weave together a page-turning narrative through the sensory-rich creations of a parfumeur."
— BookTrib

"Meet Me in Monaco is a riveting, enchanting novel...A great love story full of suspense and more twists and turns than a hilly road in Monaco."
— Jeanne Mackin, author of The Last Collection