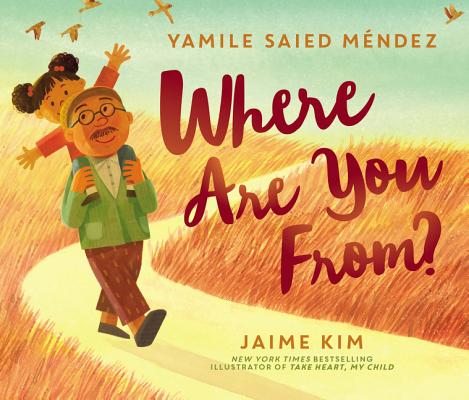 Description
---
This resonant and award-winning picture book tells the story of one girl who constantly gets asked a simple question that doesn't have a simple answer. A great conversation starter in the home or classroom—a book to share, in the spirit of I Am Enough by Grace Byers and Keturah A. Bobo.

When a girl is asked where she's from—where she's really from—none of her answers seems to be the right one.
Unsure about how to reply, she turns to her loving abuelo for help. He doesn't give her the response she expects. She gets an even better one.
Where am I from?
You're from hurricanes and dark storms, and a tiny singing frog that calls the island people home when the sun goes to sleep....
With themes of self-acceptance, identity, and home, this powerful, lyrical picture book will resonate with readers young and old, from all backgrounds and of all colors—especially anyone who ever felt that they don't belong.
2019 Nerdies Fiction Picture Book Award Winner | Silver Medalist for Bank Street College of Education's Best Spanish Language Picture Books of the Year | Named one of Kirkus Reviews Best Books of 2019 |A Mighty Girl's 2019 Book of the Year | Named one of New York Public Library's Best Books for Kids 2019 
"Lyrical language and luminous illustrations. An ideal vehicle for readers to ponder and discuss their own identities." —Kirkus (starred review)
"An enchanted, hand-in-hand odyssey [and] opportunity to acknowledge and celebrate the many, many backgrounds, roots, histories, of those who live in these United States." —Shelf Awareness (starred review)
"A much-needed title that is a first purchase for libraries and classrooms." —School Library Journal
"This touching book addresses a ubiquitous question for children of color, and in the end, the closeness between the girl and Abuelo shows that no matter the questions, she knows exactly where she's from." —Booklist
"Although the book begins as a gentle riposte to narrow cultural and ethnic categorizations, its conclusion reaches out to all readers, evoking both heritage and the human family." —Publishers Weekly
A Spanish-language edition, ¿De dónde eres?, is also available.
About the Author
---
Yamile Saied Méndez is the author of many books for young readers and adults, including Furia, a Reese's YA Book Club selection and the 2021 Inaugural Pura Belpré Young Adult Gold Medalist, Where Are You From?, Shaking Up the House, and the Horse Country series, among others. She was born and raised in Rosario, Argentina, but has lived most of her life in a lovely valley surrounded by mountains in Utah. She's a graduate of Voices of Our Nations (VONA) and the Vermont College of Fine Arts MFA writing for children and young adults program and a founding member of Las Musas, a marketing collective of Latine writers. Connect with her at yamilesmendez.com.
Jaime Kim was born and raised in South Korea before moving to the United States when she was eighteen. Although she was a timid child who was afraid of just about everything, she discovered a sense of serenity in drawing. As a grown-up, Jaime has finally stopped being afraid of everything but has kept on drawing and painting. She works with gouache and acrylics to create nostalgic and dreamlike illustrations, inspired by childhood memories of her family, as well as movies, art, and the outside world. Her debut picture book, Take Heart, My Child by Ainsley Earhardt, was a #1 New York Times bestseller. Jaime is also the illustrator of Kate DiCamillo's La La La. Visit her at jaimekim.com.