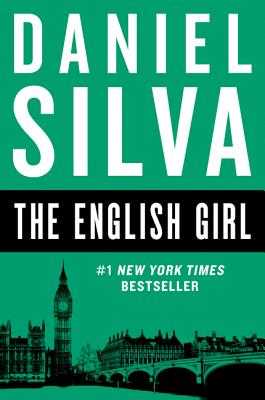 Other Books in Series
This is book number 13 in the Gabriel Allon series.
Description
---
ONE GIRL. SEVEN DAYS. NO SECOND CHANCES.
Madeline Hart is a rising star in British government: beautiful, intelligent, driven to succeed by an impoverished childhood. But she also has a dark secret: she is the lover of Prime Minister Jonathan Lancaster. When she disappears on the island of Corsica, it's clear her kidnappers know about the affair and intend to make the PM pay dearly for his sins. Fearful of a scandal that will destroy his career, Lancaster decides to handle the matter privately, and not involve the police.
Enter Gabriel Allon—assassin, art restorer, and spy—who must find Madeline within seven days before she is executed. With the clock ticking, Allon is thrust into a deadly game of shadows in which nothing is what it seems—and where the only thing more dangerous than his enemies is the truth. . . .
About the Author
---
Daniel Silva is the award-winning, #1  New York Times bestselling author of The Unlikely Spy, The Mark of the Assassin, The Marching Season, The Kill Artist, The English Assassin, The Confessor, A Death in Vienna, Prince of Fire, The Messenger, The Secret Servant, Moscow Rules, The Defector, The Rembrandt Affair, Portrait of a Spy, The Fallen Angel, The English Girl, The Heist, The English Spy, The Black Widow, House of Spies, The Other Woman, The New Girl, and The Order.  He is best known for his long-running thriller series starring spy and art restorer Gabriel Allon. Silva's books are critically acclaimed bestsellers around the world and have been translated into more than 30 languages. He resides in Florida with his wife, television journalist Jamie Gangel, and their twins, Lily and Nicholas. For more information visit www.danielsilvabooks.com
Praise For…
---
"This is thriller writing at the highest level, offering up a tight plot, believable characters, and an ending that even the most jaded of readers probably won't see coming." — Denver Post
"As usual, Silva takes the reader hostage from page one with his canny mix of spy craft and suspense….Silva's ongoing ability to combine le Carré-like texture with high energy plotting has produced a string of commercial and critical successes. Chalk up another one." — Booklist
"Fast-paced intrigue and provocative characters make this a fine addition to an outstanding series." — People Magazine, 4 stars
"Allon is a great political operative, but Silva is an even greater writer. That is what makes THE ENGLISH GIRL a must read." — HuffingtonPost.com
"Although Gabriel's adventures are set in the real world of greedy politicians and grabs for control of a diminishing supply of natural resources, 'Israel's avenging angel' has the superhuman abilities that make for a satisfying fantasy." — Columbus Dispatch
"Someone once said that their favorite books are ones that entertain and inform at the same time. The English Girl is one of those novels….A top-notch, old-fashioned East-meets-West, cloak-and-dagger thriller." — Bookreporter.com
"[Silva's] 13 Gabriel Allon novels have both entertained and informed tens of millions of readers about the realities of world in which we live more than any other writer over the past decade…. You will read the book in at most a couple of sittings." — The National Examiner
"[A] roller coaster ride….Silva is an excellent storyteller." — Judith Reveal, New York Journal of Books
"Top-notch action." — Kirkus Reviews
"One of the more unusual literary spies is Gabriel Allon, an Israeli intelligence officer who wants to retire so he can continue as an artist restoring damaged master artworks. But life interferes, and thank goodness, because otherwise we wouldn't have such great novels from Daniel Silva." — Lincoln Journal Star
"Spectacular....This captivating new page-turner from the undisputed master of spy fiction is sure to thrill new and old fans alike." — D.C. Spotlight