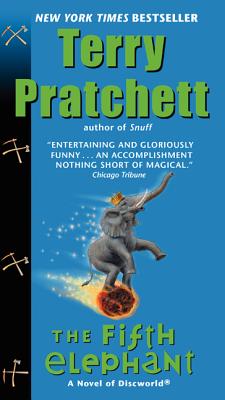 $9.99

Not Currently On The Shelf, But We Can Ship It To You In 3-5 Days
Other Books in Series
This is book number 24 in the Discworld series.
Description
---
"Pratchett cheerfully takes readers on an exuberant tale of mystery and invention. Along the way, he skewers everything from monarchy to fascism, as well as communism and capitalism, oil wealth and ethnic identities, Russian plays, immigration, condoms, and evangelical Christianity - in short, everything worth talking about." — Publishers Weekly (starred)
The twenty-fourth novel in the Discworld series from New York Times bestselling author Terry Pratchett
Everyone knows that the world is flat, and supported on the backs of four elephants. But weren't there supposed to be five? Indeed there were. So where is it?...
When duty calls. Commander Vimes of the Ankh-Morpork constabulary answers. Even when he doesn't want to. He's been "invited" to attend a royal function as both detective and diplomat. The one role he relishes; the other requires, well, ruby tights. Of course where cops (even those clad in tights) go, alas, crime follows. An attempted assassination and a theft soon lead to a desperate chase from the low halls of Discworld royalty to the legendary fat mines of Uberwald, where lard is found in underground seams along with tusks and teeth and other precious ivory artifacts. It's up to the dauntless Vimes—bothered as usual by a familiar cast of Discworld inhabitants (you know, trolls, dwarfs, werewolves, vampires and such)—to solve the puzzle of the missing pachyderm. Which of course he does. After all, solving mysteries is his job.
About the Author
---
Sir Terry Pratchett was the internationally bestselling author of more than thirty books, including his phenomenally successful Discworld series. His young adult novel, The Amazing Maurice and His Educated Rodents, won the Carnegie Medal, and Where's My Cow?, his Discworld book for "readers of all ages," was a New York Times bestseller. His novels have sold more than seventy five million (give or take a few million) copies worldwide. Named an Officer of the British Empire "for services to literature," Pratchett lived in England. He died in 2015 at the age of sixty-six.