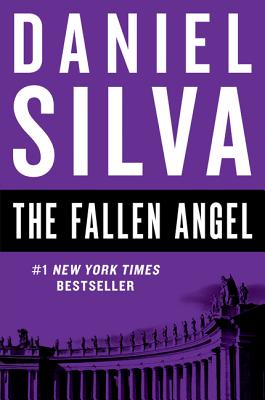 $16.99
Email or call for price.
Other Books in Series
This is book number 12 in the Gabriel Allon series.
Description
---
"A first-class spy mystery painted on a grand scale." — COLUMBIA DISPATCH
After narrowly surviving his last operation, Gabriel Allon, the wayward son of Israeli intelligence, has taken refuge behind the walls of the Vatican, where he is restoring one of Caravaggio's greatest masterpieces. But early one morning he is summoned to St. Peter's Basilica by Monsignor Luigi Donati, the all-powerful private secretary to His Holiness Pope Paul VII. The body of a beautiful woman lies broken beneath Michelangelo's magnificent dome. The Vatican police suspect suicide, though Gabriel believes otherwise. So, it seems, does Donati, who calls upon Gabriel to quietly pursue the truth—with one caveat.
"Rule number one at the Vatican," Donati said. "Don't ask too many questions."
Gabriel learns that the dead woman had uncovered a dangerous secret that threatens a global criminal enterprise involved in looting timeless treasures of antiquity. But there is more to this dark network than just greed. And unless Gabriel can prevent a mysterious operative from committing a devastating act of sabotage, the world will be plunged into a conflict of apocalyptic proportions. . . .
About the Author
---
Daniel Silva is the award-winning, #1  New York Times bestselling author of The Unlikely Spy, The Mark of the Assassin, The Marching Season, The Kill Artist, The English Assassin, The Confessor, A Death in Vienna, Prince of Fire, The Messenger, The Secret Servant, Moscow Rules, The Defector, The Rembrandt Affair, Portrait of a Spy, The Fallen Angel, The English Girl, The Heist, The English Spy, The Black Widow, House of Spies, The Other Woman, The New Girl, and The Order.  He is best known for his long-running thriller series starring spy and art restorer Gabriel Allon. Silva's books are critically acclaimed bestsellers around the world and have been translated into more than 30 languages. He resides in Florida with his wife, television journalist Jamie Gangel, and their twins, Lily and Nicholas. For more information visit www.danielsilvabooks.com
Praise For…
---
"It's become almost obligatory for lovers of high level thrillers to read each new Daniel Silva novel as soon as it appears. With his by now trademark character, Gabriel Allon...Silva just about guarantees a couple of days of terrific entertainment." — NPR, All Things Considered
"Daniel Silva's The Fallen Angel soars with authenticity….The Fallen Angel delivers the goods….Riveting espionage adventures that have timely, real-world relevance." — Dallas-Fort Worth Star-Telegram
"Meticulously researched....The Fallen Angel is a first-class spy mystery painted on a grand scale." — Columbus Dispatch
"His past 12 books, all featuring enigmatic spy/art restorer Gabriel Allon, have kept Silva's name high in the ranks; the latest, the Vatican-set The Fallen Angel, seems unlikely to reverse the trend." — Arizona Republic
"Another heart-pounding escapade of art restorer and Israeli intelligence legend Gabriel Allon gets masterful treatment." — AudioFile Magazine