The Explorer (The Anomaly Quartet #1) (Paperback)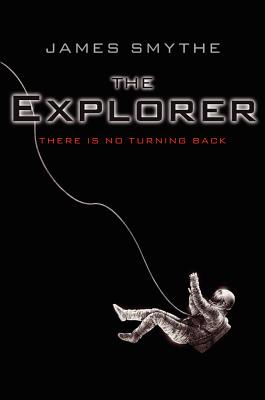 Other Books in Series
This is book number 1 in the The Anomaly Quartet series.
Staff Reviews
---
Christopher says: Smythe has streamlined his science fiction to the barest of elements. No aliens, no war, no impending ecological disaster. Society is plugging along as functionally (or not) as it is today. Instead, the story follows a group of astronauts selected for the first mission into deep space, exploration for exploration's sake. But things go horribly wrong and the crew begins dying off one by one. The last survivor is Cormac, the journalist selected to record the mission. It becomes the story of his unraveling as he faces his own demise. Smythe also adds a new twist to the idea that your life flashes before your eyes right before you die. Putting the "science" in science fiction, it explores causality, destiny versus self-determination, and asks what sacrifices we are willing to make to keep science moving forward.
— From
What Christopher is reading
Description
---
When journalist Cormac Easton is selected to document the first mannedmission into deep space, he dreams of securing his place in history asone of humanity's great explorers.
But in space, nothing goes according to plan.
The crew wake from hypersleep to discover their captain dead in his allegedlyfail-proof safety pod. They mourn, and Cormac sends a beautifully written eulogyback to Earth. The word from ground control is unequivocal: no matter whathappens, the mission must continue.
But as the body count begins to rise, Cormac finds himself alone and spiralingtoward his own inevitable death . . . unless he can do something to stop it.
About the Author
---
James Smythe has written scripts for a number of video games, and teaches creative writing in London. His previous novel was The Explorer.
Praise For…
---
"There have been teachers in space, senators, and the wealthy who buy tickets. But never has a journalist been launched over the atmosphere. Until Smythe's gripping novel."
— New York Post

"The Explorer by James Smythe is quiet, dark book which focuses on the dark and quiet of space….It may not be a flashy…but it is a fascinating character study that could only exist in a science-fictional world."
— io9.com

"Beautifully written, creepy as hell. The Explorer is as clever in its unravelling as it is breathlessly claustrophobic."
— Lauren Beukes, author of Zoo City

"This is a remarkable book: a state-of-the-art spacecraft constructed from ideas, and propelled by a powerful story. Gripping, terrifying and audacious--an exploration in every sense of the word."
— Charles Yu, author of How to Live Safely in a Science Fictional Universe

"Science fiction is best when it does what we least expect, when it transforms narrative into something you don't see coming….It's a trick not every writer can master, but Smythe makes a marvel of this world, and these characters, and makes this reader want the sequel now."
— Romantic Times BOOKclub (Top Pick!)

"The Explorer is smart, scary and seductive. Like its protagonist, it explores the queasy strangeness of space-time, and puts the reader at the heart of a tale of watching and fearing that comes off like a collaboration between Hitchcock and Heinlein. Excellent stuff."
— Lloyd Shepherd, author of The English Monster

"Dark, cold, claustrophobic, and oh so very scary. THE EXPLORER is literary science fiction at its blackest best."
— Adam Christopher, author of Empire State and Seven Wonders

"The Explorer is essentially exemplary: a short, sharp shock of a story from an author who deserves to do as well for himself as he does by us. It's perfectly plotted, smartly characterised and rife with insight and excitement."
— Tor.com

"A challenging and stimulating read."
— Booklist

"A] mind-bending, heart-wrenching, avalanche of a reading experience… an oasis for readers thirsty to find an engaging book… books like this are the kind that create fans, and I'm proud to be one."
— SF Signal

"The first person perspective and unpretentious prose style are enhanced by accomplished pacing."
— SFX (UK)

"A brilliant book — funny, desperate, desolate, sad, all in equal measure."
— Chuck Wendig

"Unsettling."
— Daily Telegraph (London)

"The Explorer has the dreamlike detachment of an Ishiguro novel…. reminiscent of a 1970s space movie, where the darkness of the void mirrors the darkness of the human soul."
— Financial Times

"A wonderful examination of coping with loss, time and death."
— SFX

"As if Philip K Dick and David Mitchell collaborated on an episode of The West Wing. Unsettling, gripping and hugely thought-provoking."
— FHM