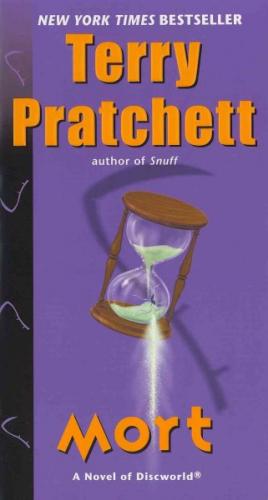 $9.99

Not Currently On The Shelf, But We Can Ship It To You In 3-5 Days
Other Books in Series
This is book number 4 in the Discworld series.
Staff Reviews
---
Even Death deserves a day off now and again. At least, that's the idea he has when he gets his apprentice. He's spent quite a bit of time around humans over the millenia and now he wants to go on holiday. Well and good except Mort doesn't know what he's doing, Death doesn't know how to teach him and the dead are starting to get testy over the mix-ups
— From
What Adri is Reading
Description
---
New York Times bestselling author Sir Terry Pratchett makes Death a central character in Mort, his fourth sojourn to Discworld, the fantasy cosmos where even the angel of darkness needs some assistance. 
Death comes to everyone eventually on Discworld. And now he's come to Mort with an offer the young man can't refuse. (No, literally, can't refuse since being dead isn't exactly compulsory.) Actually, it's a pretty good deal. As Death's apprentice, Mort will have free board and lodging. He'll get use of the company horse. And he won't have to take any time off for family funerals. But despite the obvious perks, young Mort is about to discover that there is a serious downside to working for the Reaper Man . . . because this perfect job can be a killer on one's love life.
Terry Pratchett's profoundly irreverent, bestselling novels have garnered him a revered position in the halls of parody next to the likes of Mark Twain, Kurt Vonnegut, Douglas Adams, and Carl Hiaasen.
The Discworld novels can be read in any order, but Mort is the first book in the Death series.
About the Author
---
Sir Terry Pratchett was the internationally bestselling author of more than thirty books, including his phenomenally successful Discworld series. His young adult novel, The Amazing Maurice and His Educated Rodents, won the Carnegie Medal, and Where's My Cow?, his Discworld book for "readers of all ages," was a New York Times bestseller. His novels have sold more than seventy five million (give or take a few million) copies worldwide. Named an Officer of the British Empire "for services to literature," Pratchett lived in England. He died in 2015 at the age of sixty-six.