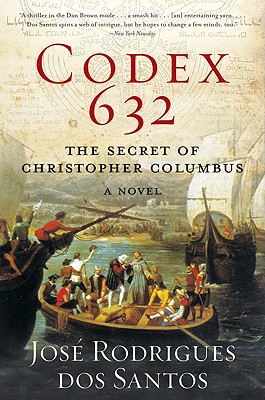 $16.99

Not Currently On The Shelf, But We Can Ship It To You In 3-5 Days
Description
---
Who was the enigma the world knows as Christopher Columbus . . . and why has his true identity been covered up for centuries?
When an aged scholar is found mysteriously dead in his hotel room, Thomas Noronha, expert cryptographer and professor of history, is called upon to finish the man's unresolved investigation. In the course of unraveling the puzzles and cryptograms shrouding his late predecessor's work, Thomas discovers a code that will set him on a breathtaking race across the globe—from Lisbon to Rio to New York and Jerusalem—as he is drawn into one of the greatest mysteries of all time, a shocking revelation that will alter everything we've always believed about one of the world's most celebrated adventurers.
About the Author
---
José Rodrigues dos Santos is a professor at the New University of Lisbon and a journalist at RTP, the Portuguese public television station. He is the author of the international bestseller
Codex 632
. Born in Mozambique, he lives in Portugal.
José Rodrigues dos Santos nació en Mozambique en 1964. Es escritor y periodista y fue director de Información de RTP, la televisión pública de Portugal. Es también el autor de El códice 632.
Praise For…
---
International Praise for Codex 632 — .
"A fresh-thinking historical thriller buoyed by its hero, a man with a spinning moral compass trying to find his truth North." — Kirkus Reviews
"[A] relentless quest for the truth." — Forward
"Readers more intrigued by academic detection than global conspiracies should eat this one up. A fresh-thinking historical thriller buoyed by its hero, a man with a spinning moral compass trying to find his truth North. " — A Folha de São Paulo, Brazil
"A most newsworthy novel on Columbus … Based on historical documents, it narrates the story of a clever expert cryptanalyst who unravels a conspiracy to keep the true identity of the great navigator forever hidden from history." — Que Leer, Spain
"It was supposed to be like The Da Vinci Code, but in fact it's better and more interesting, as it presents readers with more proof than speculation. The historical part of the novel is amazing and accessible. Impressive." — --Jornal do Brasil, Brazil
"In the world of historical scholarship, the mystery surrounding the discoverer of America and his true roots remains unsolved. Codex 632 reminds us all of the historical investigation which has yet to be conducted." — Adelaide Advertiser