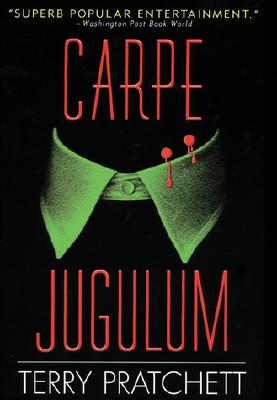 $24.00
Email or call for price.
Description
---
It is rare and splendid event when an author is elevated from the underground into the international literary establishment. In the case of England's best-known and best-loved modern satirist, that event has been long overdue.
Terry Pratchett's profoundly irreverent Discworld novels satirize and celebrate every aspect of life, modern and ancient, sacred and profane. Consistent number-one bestsellers in England, they have garnered him a secure position in the pantheon of humor along with Mark Twain, Douglas Adams, Matt Groening, and Jonathan Swift.
Even so distinguished an author as A. S. Byatt has sung his praises, calling Pratchett's intricate and delightful fictional Discworld "more complicated and satisfying than Oz."
His latest satiric triumph, Carpe Jugulum, involves an exclusive royal snafu that leads to comic mayhem. In a fit of enlightenment democracy and ebullient goodwill, King Verence invites Uberwald's undead, the Magpyrs, into Lancre to celebrate the birth of his daughter. But once ensconced within the castle, these wine-drinking, garlic-eating, sun-loving modern vampires have no intention of leaving. Ever.
Only an uneasy alliance between a nervous young priest and the argumentative local witches can save the country from being taken over by people with a cultivated bloodlust and bad taste in silk waistcoats. For them, there's only one way to fight.
Go for the throat, or as the vampyres themselves say...
Carpe Jugulum
About the Author
---
Sir Terry Pratchett was the internationally bestselling author of more than thirty books, including his phenomenally successful Discworld series. His young adult novel, The Amazing Maurice and His Educated Rodents, won the Carnegie Medal, and Where's My Cow?, his Discworld book for "readers of all ages," was a New York Times bestseller. His novels have sold more than seventy five million (give or take a few million) copies worldwide. Named an Officer of the British Empire "for services to literature," Pratchett lived in England. He died in 2015 at the age of sixty-six.