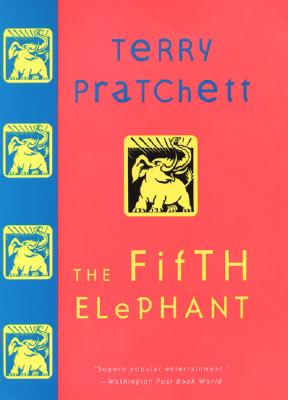 $24.00
Email or call for price.
Description
---
Everyone knows that the world is flat, and supported on the backs of four elephants. But weren't there supposed to be five? Indeed there were, and what happened to the fifth elephant is only one of the many perplexing mysteries solved in this new novel by today's most celebrated fantasy humorist.
Terry Pratchett's profoundly irreverent Discworld novels have been number one bestsellers in England for more than a decade, securing him a position in the pantheon of satire and parody alongside Kurt Vonnegut, Douglas Adams, and Carl Hiaasen. Pratchett's fame, like his imagination, is now going global--if such a term can be used in connection with an author whose creation is so uncompromisingly (though no longer quite so unfashionably) flat.
Which brings us back to the missing mythical pachyderm. The Fifth Elephant begins, like so many of Pratchett's satirical inventions, with an invitation. This one is both royal and engraved, requiring that Commander Vimes of the Ankh-Morpork constabulary attend as both detective and diplomat. The one role he relishes; the other, well, requires ruby tights.
Where cops (even those clad in tights) go, crime of course, follows--and an attempted assassination and a theft soon lead to a desperate chase from the low halls of Discworld royalty to the legendary fat mines of Uberwald, where lard is found in underground seams along with tusks and teeth and other precious ivory artifacts.
Vimes's "elephant" adventure is as profound as it is hilarious, sending up every aspect of modern life from royalty (a British specialty) to bureaucrats (inescapable anywhere), from cops (especially those unusually dressed) to criminals (who, like fools, have their own guild), from fantasy literature to satire itself.
The world is busy discovering Terry Pratchett. Shouldn't you be doing your part?
About the Author
---
Sir Terry Pratchett was the internationally bestselling author of more than thirty books, including his phenomenally successful Discworld series. His young adult novel, The Amazing Maurice and His Educated Rodents, won the Carnegie Medal, and Where's My Cow?, his Discworld book for "readers of all ages," was a New York Times bestseller. His novels have sold more than seventy five million (give or take a few million) copies worldwide. Named an Officer of the British Empire "for services to literature," Pratchett lived in England. He died in 2015 at the age of sixty-six.