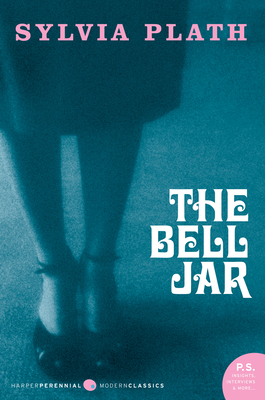 Staff Reviews
---
The brutally honest account of Esther Greenwood's undoing is timeless and relatable. Seemingly overnight, Esther realizes that her life is slipping through her fingers; college is unbearable, friends are nonexistent, and the future is murky. Esther's story is a rollercoaster with more troughs than peaks, her recovery is prolonged and pessimistic, but a recovery nonetheless. The Bell Jar is a realistic and honest overview of the impact of mental health issues on a young woman. I believe that all women should read this novel.
— From
What Hannah is Reading
Description
---
A realistic and emotional look at a woman who falls into the grips of insanity written by the iconic American writer Sylvia Plath
"It is this perfectly wrought prose and the freshness of Plath's voice in The Bell Jar that make this book enduring in its appeal." — USA Today
The Bell Jar chronicles the crack-up of Esther Greenwood: brilliant, beautiful, enormously talented, and successful, but slowly going under—maybe for the last time. Sylvia Plath masterfully draws the reader into Esther's breakdown with such intensity that Esther's insanity becomes completely real and even rational, as probable and accessible an experience as going to the movies. Such deep penetration into the dark and harrowing corners of the psyche is an extraordinary accomplishment and has made The Bell Jar a haunting American classic.
This P.S. edition features an extra 16 pages of insights into the book, including author interviews, recommended reading, and more.

About the Author
---
Sylvia Plath was born in 1932 in Massachusetts. Her books include the poetry collections The Colossus, Crossing the Water, Winter Trees, Ariel, and Collected Poems, which won the Pulitzer Prize. A complete and uncut facsimile edition of Ariel was published in 2004 with her original selection and arrangement of poems. She was married to the poet Ted Hughes, with whom she had a daughter, Frieda, and a son, Nicholas. She died in London in 1963.
Praise For…
---
"It is this perfectly wrought prose and the freshness of Plath's voice in The Bell Jar that make this book enduring in its appeal and make it as meaningful . . . as it was 25 years ago."
— USA Today

"Esther Greenwood's account of her years in the bell jar is as clear and readable as it is witty and disturbing. . . . [This] is not a potboiler, nor a series of ungrateful caricatures: it is literature."
— New York Times

"The first-person narrative fixes us there, in the doctor's office, in the asylum, in the madness, with no reassuring vacations when we can keep company with the sane and listen to their lectures."
— Washington Post Book World

"The narrator simply describes herself as feeling very still and very empty, the way the eye of a tornado must feel. The in-between moment is just what Miss Plath's poetry does catch brilliantly—the moment poised on the edge of chaos."
— Christian Science Monitor

"As clear and readable as it is witty and disturbing."
— New York Times