What Sandy is reading
"It is difficult, if not impossible, to know which of the myriad of children's books will penetrate a given child's own magic circle of existence and strike the clarion note of pure truth.  No one can possibly tell what tiny detail of a drawing or what seemingly trivial phrase in a story will be the spark that sets off a great flash in the mind of some child, a flash that will leave a glow until the day he or she dies."
-Robert Lawson, author and illustrator

$14.99
ISBN: 9780062103970
Availability: Usually Ships in 1-5 Days
Published: Harper Perennial - February 7th, 2012
Sandy says: Mick Little, after losing his job as shipbuilder in the Glasgow yards, relies on his marriage for joy and fulfillment. When his wife dies from a tragic illness, Mick loses himself in personal darkness and disappears. A vivid story about a bold man's struggle from loss into a new life and ultimate reconciliation. Rich in Scottish dialogue—a favorite ingredient.
---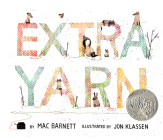 $16.99
ISBN: 9780061953385
Availability: Usually Ships in 1-5 Days
Published: Balzer & Bray/Harperteen - January 17th, 2012
Sandy says: Once upon a long string of picture books, there comes along a perfect yarn. This special genre blends the power of words with illustration, a theater for kids of all ages to enjoy. In this simple story reminiscent of a fairy tale, Annabelle's ordinary box full of ordinary yarn turns into an extraordinary gift. Full of heart, wit and wisdom…a must-have to share with youngsters.
---